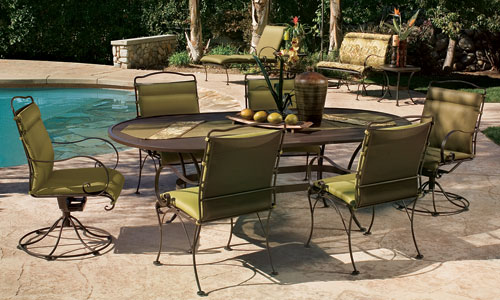 GLIDES FOR IRON FURNITURE
Wrought Iron furniture has been one of the most popular and durable types of furniture for over 100 years.  It's high strength and durability means…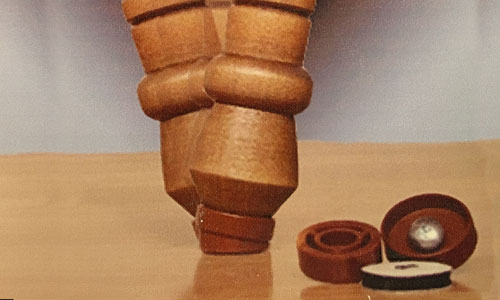 GLIDES FOR WOOD FURNITURE
For virtually any indoor or outdoor wood furniture. Since most wood furniture has angled legs, glides have only just run on their heels or edges. Chairs…
GLIDES FOR CAST FURNITURE
This is the most recent adaptation of Forever Glides and their unique features. Cast Aluminum furniture is the fastest growing segment of casual…
QUESTIONS ABOUT FOREVER GLIDES OR WHERE TO BUY?
Having just moved into my new house, I was somewhat reluctant to put my iron patio furniture on our redwood deck for fear of gouging the wood. I obtained a set of your "Forever Glides" and installed them on our furniture. To my amazement the furniture slides on the deck as though I had installed casters instead. I am very pleased, thank you very much for an excellent product.
I've been looking for floor protectors that actually work for over 20 years. Your product does not harm wood, tile or vinyl floors- THE GREATEST INVENTION SINCE SLICED BREAD!
When I first opened the box and took a good look at this product I was disappointed. I have old fashioned iron patio furniture and the leg glides were worn through. I had my deck replaced recently with Trex, an expensive composite, and I didn't want the iron furniture to scratch the Trex. The glides are thick and protrude far beyond the edge of the metal cup that fits on the end of the legs but they attach with an adhesive disk. My initial impression was that they would not hold, but I gave it a try anyway. They were easy to install and "glide" is a perfect description. The heavy iron pieces actually glide lightly across the deck boards. We've had torrential rain and not a one of them has come loose. Another benefit is that they self level so there is no wobbling of the chairs or tables. I am sold on the Forever Glides! They work perfectly for my application, are protecting the Trex very well and have been totally secure. Good product.
These glides are of much higher quality than the ones that came with my patio furniture set. Installation was easy and they seem durable. They also glide well and I like that they're black. Most of the others I looked at here before settling on these were white. In my experience white glides look old/dirty much more quickly in an outdoor patio environment.
After having bought glides that were 1/2 the price and had to return them because they wouldn't fit, I was thrilled when my husband installed these glides easily and fast. They come in two parts, a hard plastic disc and a double sided adhesive foam pad. All you have to do is peel off the paper on one side of the foam, stick it to the plastic disc, peel off the paper on the other side of the foam and stick the now exposed adhesive side in the cup at the bottom of the table or chair. The wrought iron should be cleaned prior to placing the glides on.
When these glides turned up I must say I was not optimistic, just little plastic discs with some two sided sticky pads to peel each side yourself and stick on the bottom. I thought seriously about just returning them. However, I needed them badly so I decided to give them a try. I did the first outdoor cast iron chair without reading the instruction and they seemed to do okay. Then, I learned from the instructions a way to remove the white backings and it did make a difference and speeded things up. I also cleaned the remaining 3 chairs with alcohol as suggested. 4 chairs done and I have to say I'm a little more optimistic than I previously was, they seem to be keeping in place. The grand kids give them a good workout on their visits.
I have them under heavy outdoor chairs. No wiggle and easy to slide. All factory installed slides broke or deteriorated. Forever Glides seem much more sturdy.
Love these! We have 3 sets of wrought iron furniture. We bought these to use on the set around the pool so the feet won't leave rust on our deck. Just bought them to raise the table and chairs and allow for easy gliding. They glide very easily and don't pop out. They did the trick. We had to pop out the old rotted plastic sliders but these fit in perfectly. Will be buying more at some point to do the other sets of furniture, just wish they were a little less expensive, but worth the price.